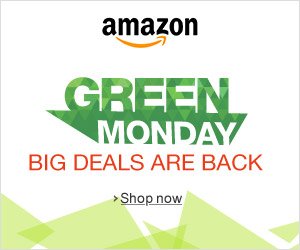 Update 2.0 : Popular stores like Amazon, Best Buy, Walmart, Target & more are running After-Christsmas Sale.We've handpicked some great After-Christmas sales & deals including year-end clearance sale in fashion, clothes, shoes & more. Check out After-Christmas sales & deals here.
---
Hey Shoppers, don't forget to refresh the page before you leave as we're updating this page with new deals every minute. Do bookmark (Ctrl+D) this page and do check it before you buy anything. Happy Shopping! ~ Brian
The shopping season isn't ended till, many retailers and e-retailers are offering great deals. And they named it as "Green Monday" don't ask what is "Green Monday" 🙂 Actually, Green Monday was given a name to the largest shopping day in December by Ebay in 2009. Now, you must be thinking what is this 'Green' in Green Monday? No, it doesn't mean environment friendly  🙂 The busiest shopping day in December got its name because 'green' is the color of money 😀
However, whatever it's, this is the final opportunity for you to grab those missed deals in black Friday weekends. Amazon is one of those e-retailers which is offering great sale on products, starting from today i.e Monday and will run for four days. They're  coming up with new lightening deals every 10 minutes & that will be available till stock lasts. And some deals are in limited quantity so grab them as you find any great deal on your favorite product. You'll find all the available lightening deals & upcoming Green Monday deals on amazon.com/green-monday. Here we've covered some great Amazon deals on Green Monday 2014. As usual, keep checking this page as we'll update this page with the new deals.
Amazon Green Monday Top Deals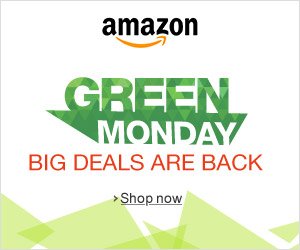 ---
Amazon Green Monday Sale
Apparel Sale
Amazon is offering 30% discount on selected man's, woman's & kids apparel, shoes, watches & more with 'NO' minimum purchase required. Just use coupon code "GRNMON14" to get the discount. And as usual Prime members will get FREE SHIPPING & non-prime members have to shop $35 or more to get free shipping otherwise shipping charges starts at $5.
Not a Prime member? This is the best time to try Amazon Prime as the e-commerce giant is offering a killer deal for its non-prime members. If you go for Amazon Prime membership, you'll get direct 50% discount on any of your first prime order. Apply coupon code "PRIMESNS" and your selected items will be 50% OFF. (You can choose any item) [Don't Miss this!] Click here to know more about benefits of joining Prime membership.
Amazon Green Monday Sale Live
Amazon Green Monday Today's Lightening Deals
Watches
[asa]B00NNG8CI0[/asa]
Clothes
Other Deals
[asa]B00NNG8CI0[/asa]
---
Amazon Deal Of The Day [Gold Box Deals]

Apps
TVs
[asa]B009QZH6JS[/asa]
Keep checking all gold box deals on amazon.com/gold-box.
---
Amazon Green Monday Smartphones & Accessories Deals
---
Miscellaneous
---
Are you an Amazon Prime Customer? If not, you're missing a lot. Amazon is offering best deals & services for its Amazon Prime Customers. By joining Amazon Prime today, you can get FREE shipping on millions of items, instant streaming of thousands of movies & TV shows, Unlimited Premium access to over million songs, FREE unlimited Photo Storage in Amazon Cloud Drive (My favorite, Amazon cloud is 100% secure don't consider it as APPLE iCloud here :D), read FREE books each month and you'll be having 30 minutes early access to Amazon's Lightening deals before non-prime members. So, its totally worthy to join it, click here to get more details about Amazon Prime.
Update 1 : Amazon is offering 50% off 1 item When you try Amazon Prime Use coupon code "PRIMESNS" and your selected items will be 50% OFF. (You can choose any item) [Don't Miss this!]
Update 1.1: Give the Gift of Prime: 1-yr. membership for $99 with no auto-renewal.
---
Are you a student? Well, this can excite you. Amazon student is an excellent programs for students with tons of amazing services and deals. Amazon student members will get FREE two-day shipping, exclusive deals & coupons, access to unlimited photo-storage & more. And as usual if you're not satisfy with the service, you can cancel it anytime in 6 months. And one more benefit here, if you wants to go with service after your 6 months trial, you'll get direct 50% OFF on your Prime Subscription. So, its not bad, we recommend you should start your FREE trial.
---
'Amazon mom' is the e-commerce giant's new membership programs for moms out there. However, any one can join it, whether you're a you're a mom, dad, grandparent, or caretaker. 'Amazon mom' members will have exclusive coupons in Baby & Child Care, Health & Personal Care ; 20% OFF on diapers full year, free two day shipping, 15% OFF on eligible items on your Baby Registry, Unlimited music and video streaming. So, as we can see there are lot of benefits for moms to join this membership.

Wants to try 'Amazon mom'? You're lucky, you can try it FREE for 30 days. And if you don't find it worthy you can cancel your subscription anytime.
Note: Amazon Prime members will not get this FREE trial. However, ladies, if you're interested you can try it on your husband name
---
As usual, we're updating this page with new Amazon Green Monday deals as they're going live, so stay connected to this page. Press ctrl+d to bookmark this page. In the mean time, you must visit amazon.com/green-monday to check out all the available & upcoming deals.
Update : Hey Shoppers, Amazon 12 days of Deals live, we covered all top sales & deals here.
~
Brian
BestFridayDeals.org