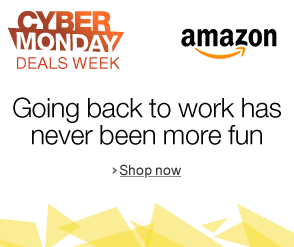 Update 7 → December 7, 2014, 7:24 A.M. PT Hey shoppers, page updated with new deals, please refresh the page. Before you leave this page, refresh it so that you can find the latest deals we're updating!
Update 6: Amazon stopped their Cyber Week & started Green Monday 2014, however mostly of cyber Week deals are still available in Green Monday that will last till tomorrow 11:59P.M. PT.
Update 5: Amazon Latest Deals:
Update 4 : HP Deskjet 2544 WiFi Multifunction Printer for $20 – Staples
Update 3 :
Update 2.1: SORRY! Due to large numbers online simultaneously in chat feature, it crashed, we're working on other alternative. ~ Brian
Update 2: Hey my lovely readers, this is Brian. I've setup a chat room for you so you can chat with the other online users on the site and can discuss deals etc. There are 300 users are live on the site. You can access chat room by opening our homepage : https://bestfridaydeals.org and check out in right side at the bottom. You can choose your Guest name (Without revealing your identity) and start interacting with other users or even with me. Enjoy 🙂 ~ Brian.
Update 1: Article updated online shoppers, please refresh the page! ~ Brian
Finally the biggest shopping season of the year ends with Cyber Monday. Many of us grabbed our favorite products on thanksgiving day, Black Friday and Cyber Monday. But if you still didn't get what you're looking for in this shopping days then there is a final chance to you – Amazon Cyber Week. As we mentioned in our earlier posts, Amazon is running its Cyber Week from 29 November 2014 and it will end on Saturday 06 December. According to Amazon, some deals in its Cyber Week will be in limited quantity but they'll keep adding new Cyber Week deals with every 10 minutes, all week-long and these items only available while supplies last. There will be best deals in the product categories like Electronics, Computer Accessories, Home Kitchen & garden, toys & games, TVs, DVDs, Video games and more. You can find all the cyber week deals on amazon.com/cyberweek.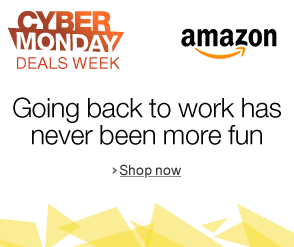 But as usual, here we've curated Amazon Best Cyber Week deals category wise, so that you don't have waste more time in grabbing your favorite product. On Cyber Monday too, we had covered the complete coverage of all Cyber Monday best deals at one place and we're happy to tell you , thousands of shoppers benefited from us. We also enabled Chat Feature on Cyber Monday for our shoppers that enabled them to anonymously chat with other online-users on the site and also they had chat with me. But due to heavy users online on the site, our server crashed and we've to discontinue the chat feature. However, we're also working to enable that feature on the site so that more and more users can interact with other shoppers. It'll be live by tonight 🙂

Note: All the deals mentioned below are only available while the stock last. So, if you find any good discount on your favorite product, do grab it as soon as possible.

If you wants to grab Premium iOS, Android & Mac apps for free in this shopping season, then check out our this ultimate list of Best App deals here. There are hundreds of apps free there.

Latest Misc. Deals [Grab Fast, Just for Limited Time]
---
Amazon Cyber Week Best Deals
Are you an Amazon Prime Customer? If not, you're missing a lot. Amazon is offering best deals & services for its Amazon Prime Customers. By joining Amazon Prime today, you can get FREE shipping on millions of items, instant streaming of thousands of movies & TV shows, Unlimited Premium access to over million songs, FREE unlimited Photo Storage in Amazon Cloud Drive (My favorite, Amazon cloud is 100% secure don't consider it as APPLE iCloud here :D), read FREE books each month and you'll be having 30 minutes early access to Amazon's Lightening deals before non-prime members. So, its totally worthy to join it, click here to get more details about Amazon Prime.
Update: Amazon is offering 50% off 1 item When you try Amazon Prime Use coupon code "PRIMESNS" and your selected items will be 50% OFF. (You can choose any item) [Don't Miss this!]
---
'Amazon mom' is the e-commerce giant's new membership programs for moms out there. However, any one can join it, whether you're a you're a mom, dad, grandparent, or caretaker. 'Amazon mom' members will have exclusive coupons in Baby & Child Care, Health & Personal Care ; 20% OFF on diapers full year, free two day shipping, 15% OFF on eligible items on your Baby Registry, Unlimited music and video streaming. So, as we can see there are lot of benefits for moms to join this membership.

Wants to try 'Amazon mom'? You're lucky, you can try it FREE for 30 days. And if you don't find it worthy you can cancel your subscription anytime.
Note: Amazon Prime members will not get this FREE trial. However, if you're interested you can try it on your husband name 😉
---
Are you a student? Well, this can excite you. Amazon student is an excellent programs for students with tons of amazing services and deals. Amazon student members will get FREE two-day shipping, exclusive deals & coupons, access to unlimited photo-storage & more. And as usual if you're not satisfy with the service, you can cancel it anytime in 6 months. And one more benefit here, if you wants to go with service after your 6 months trial, you'll get direct 50% OFF on your Prime Subscription. So, its not bad, we recommend you should start your FREE trial.
---
Smartphones & Accessories
---
TVs
---
Desktops & Laptops
[asa]B00NNQFO72[/asa]
---
Games & Accessories
[asa]B00IAACWH6[/asa]
---
Storage
[asa]B00IVPU7AO[/asa]
---
Speakers & Headphones
---
Printers
[asa]B00AVWKUJS[/asa]
---
Movies
---
Books
---
Miscellaneous
[asa]B003L1ZYYM[/asa]
---
Update : Check out today's (6 November 2014) gold deals on amazon.com/gp/goldbox. There is a great discounts on watches, clothes, toys & shoes.
You don't have to go here and there on the web to find Amazon's Best Cyber Week deals, just keep checking this page. We're updating this page with the new deals in different categories. So, press Ctrl+D to bookmark it and keep checking this page after few hours. You'll surely find something new & exciting here. And don't forget to share this page with every friends using social button below. You can also tag your friends in below Facebook comments. And in case you're accessing this page on iPhone, just tap the whatsapp share button at the bottom to share it.
~
Brian
Loved our hard-work? Share a word about us!
Here are the top deals of #AmazonCyberWeek 2014 in Electronics, Computers, Video Games, Smartphones, toys & more →http://t.co/YMvtxe0LzJ

— Cyber Monday 2014 (@bestfridaydeals) December 6, 2014