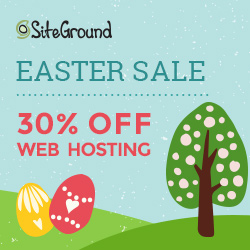 The good people at Siteground are celebrating Easter Day and so offering great deals on their hosting packages. The Web Hosting company established in 2004 and they're the upcoming Payoneer in Web Hosting, Cloud Platform and dedicated Hosting. According to WIKI last report, there are 4,50,000 domains hosted on Siteground and having 4 data centers in the United States of America, the Netherlands, UK and Singapore. Even we've couple of WordPress web portals hosted on Siteground Web Hosting and till today we didn't face any kind of down time on the portals and we can't ignore their amazing support. So, coming to the topic, what's there for you from Siteground Inc. on this Easter Day 2016?
Siteground Easter Hosting Sale 2016
Siteground is offering special discount for Easter Day 2016 on their Web Hosting Packages. You can grab up to 30% OFF on Premium Web Hosting Packages. Due to heavy demand, cloud is becoming expensive day by day and it's best to grab some hosting packages in these kind of Hosting Sales. And if you've a long term vision with the project or having multiple projects, we would recommend you buy Hosting Package for multiple years so that you can save the maximum. Click here for the Siteground Easter 2016 Sale OR click this link to see the packages > https://www.siteground.com/go/easter
Also Check > GODADDY COUPON CODES MARCH 2016 [VERIFIED]
Disclosure: We receives Siteground coupons as we are one the affiliate partners of Siteground. If these coupons are used, then we receive some compensation from them. But, it will never affect the cost of hosting plans for you. All our reviews are completely based on our own experience with hosting company.