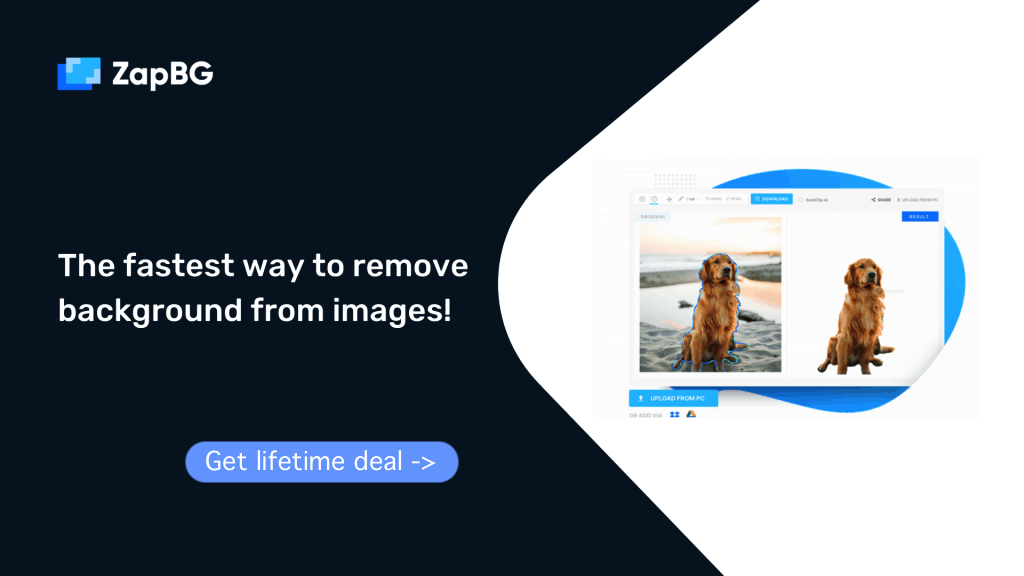 Many a times, we want to remove the background from our photos but due to the lack of either tools or designing knowledge, we can't do that.
Removing background from an image manually is a very time taking process, even if you know how to remove it using the traditional tools like Photoshop.
What if you've got a lot of product photos (E-commerce Seller) and you want to remove the background from all of them? Well, then obviously you need to use a background removal tool.
Now, there are a lot of tools available on the Internet. One that's more popular Remove.bg but it's NO more a free tool. They've started charging per image and that's very expensive if you're a e-commerce seller who has got a lot of product photos.
ZapBG – Background remover tool
Introducing to you, ZapBG, the fastest and the most intelligent way to remove background from any image with a single click.
ZapBg uses AI and ML which makes this tool so fast and 100% accurate. And if you're not completely satisfied with the result it has the option of manually selecting the parts of the image you want to remove.
Features of ZapBG
Autoclip AI: Once you upload the picture, our AI will automatically remove the background from it.

Change Backgrounds: Our editor tool lets you add image or color backgrounds so you don't have to use other apps anymore.

Pan & Zoom: Twist, turn, and zoom an image to deliver pixel-perfect results.
Undo / Redo: You can always go back to the previous state with our undo and redo options.
+ / – Markers: We have created markers for you to manually choose what parts you want to remove or keep.
Share Easily: Share your work directly on social media without leaving our app.

Brush Size: Manually choose brush size for your editing purposes.
Multi Export: Export multiple images at once and save your precious time.
Pricing
ZapBG is a SAAS tool and will follow the subscription based model but right now they're running the limited time lifetime deal starting from just $49 wherein you get all the features and future upgrades for FREE. Depending on the chosen plan, the deals include a different amount of background remover credits per month, credit rollover and storage capacity.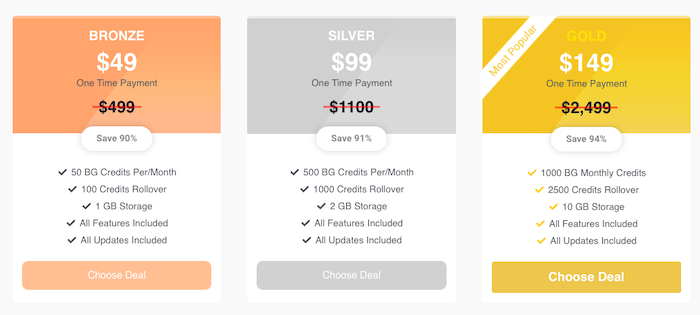 ZapBG Vs Others.
There are mainly 3 competitors for ZapBG. Remove.bg, Clipping Magic and Slazzer, you can see which is most affordable.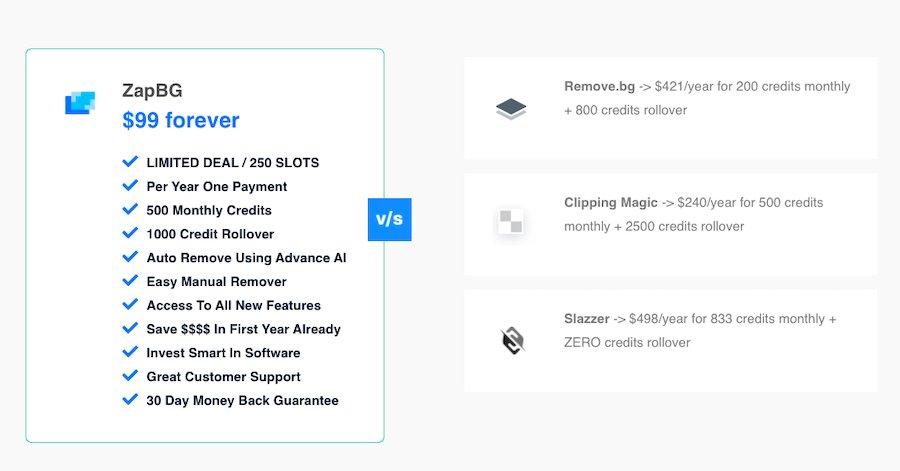 Should you buy it?
I would say, it's a great deal. For lifetime, you don't need to buy any other background removal tool. They'll also keep adding new features to the tool as you can see in their Public Roadmap. They also offer you free storage with every plan so you don't need to carry your external hard drive or keep everything in your laptop. The files can be accessible from anywhere and can be shared directly with any team member on the go.
It's the best tool for e-commerce sellers, photographers, designers, agencies, marketers, bloggers and anyone who deals with photo editing and specific background removal.
Click the image below to grab your ZapBG Lifetime plan now!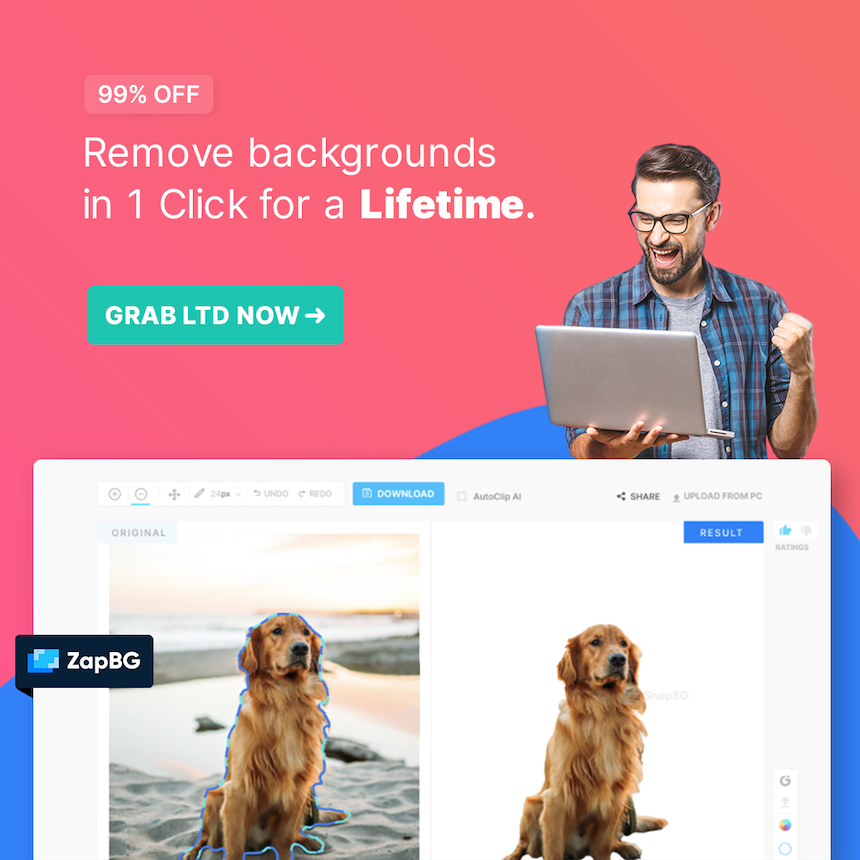 What's the ZapBG LTD deal?
Does ZapBg offers refund?
Yes, they offer 30-days money back guarantee. No question asked.
What about un-used removal credits?
They would be added to your next month cycle.
What are upcoming features on ZapBG?
Integration with Glorify app and other apps and video background removal.
Do I have to pay for the future updates and features?
No, if you grab their LTD deal.
Can I pay via PayPal?
They accept all major credit cards and PayPal payments!
Can I upgrade to a higher plan?
You certainly can! As long as the LTD offer is still running, you will be able to do so straight from the app settings and simply by paying the difference. If you decide to do this once the LTD offer runs out, you will just need to get in touch with them to upgrade to a higher plan.